www.thegrove-jefferson.com July-August 2016 ISSN 1558-3252
"I have good hope that there is something remaining for the dead." - Socrates
Okay, there's something about me that you don't know, and I should probably come clean about it. It has been said that confession is good for the soul, so here goes... hello, my name is Mitchel, and I am a... a... a... comic book collector. There, I've said it. It's all out in the open now. Yep, I've been reading comic books since I was a wee lad, and although I unfortunately got rid of most of them over time, I've kept my collection of Thor comics through the years. In fact, I have the entire Thor series except for one issue that came out back in the early 1960s that I happened to miss back then. It's available on Ebay, but for some strange reason I can't convince my wife how important it is to spend $800 on a comic book, so there will probably be a hole in my collection for the rest of my life.
So why do I bring up all this? Well, occasionally there's a comic book that comes out that is advertised as a "Giant, Double-Sized Edition!" and that's what the GroveZine is this month. I'm running a little behind, but have enough for two complete 'zines, so I thought that I'd simply consolidate July and August for this year, but make it a double-sized edition. Just like one of those comic books from my collection.
Of course, the month of July brought the annual "Jefferson Salutes America!" celebration in the park downtown. I was volunteering in the Blue Bell ice cream booth where sales benefited the Carnegie Library. But there was the problem: in the 100-degree heat, the ice cream was melting as fast as we could serve it. Our line-boss, my buddy Ted, was scooping out the melted ice cream into a tub to throw away. This horrified me, so I started scooping out the meltings in my tub (the Strawberry flavor) into a little bowl, which I put to the side and ate/drank whenever we didn't have customers. Of course, I soon realized how fast the ice cream was melting and how much I'd end up eating - it would end up as a stomach-ache or an extra ten pounds that week, so I gave up and sadly just watched the milkshake-like liquid being disposed of. It was a wonderful celebration, though, with a band in the gazebo playing patriotic tunes all afternoon. There was a children's parade, homemade ice cream judging, a cake & pie auction for the library, and more. It all caped off with a fireworks display that was simply amazing. If you've never been to the Fourth of July in Jefferson, make your plans to attend next year.
Before continuing on, I have some wonderful news for you, although it doesn't have anything to do with The Grove or Jefferson. But just because you're a loyal reader of the GroveZine, here's three million dollars for you. Yep, get ready to deposit the money in your checking account! Three million bucks. Three million big ones. Three million donuts. But... there is one little, teeny, tiny catch. All you have to do is solve the puzzle of the Forrest Fenn Treasure. Some time ago Fenn hid the treasure (initially valued at one million, but now the estimated worth is three) in the Rocky Mountains, and wrote a short poem that contains all the clues that you need to find it. My doctor told a friend of mine about it, who passed it on to me, and I can't stop reading about it - there are all kind of online discussions about the treasure. It's real, and as of now, no one has found it. To start your quest, just visit the Wikipedia page, and go on from there. But if you do find it, can I have the turquoise bracelet? That shouldn't be a problem, since you'll be so rich from the rest of the treasure!
The Grove has been awarded many important distinctions over the years. It is listed on the National Register of Historic Places by the Department of the Interior, and it is designated a Recorded Texas Historic Landmark by the State of Texas Historical Commission. But we just learned that it has been given the ultimate honor: it is a Pokémon Go Pokéstop. Or at least, something like that; I don't understand all the nuances of Pokémon Go. We had some guests on the tour that not only told us that, but actually showed us on their phone - and there we were! I'm not sure exactly how something gets designated as a Pokémon Go thingy, but somehow The Grove did. Maybe its because of the other historic designations; but I keep wondering if we get a bronze marker for the front of the house because of the Pokémon thing...
Now for a story that brings a tear to my eye; you see, I had a really tough time finishing a tour of The Grove not long ago. To tell you why, though, I have to tell you that Jefferson lost one of its favorite sons last week. My friend Nick was an amazing guy, and he loved Jefferson with all of his heart. He was King of Mardi Gras a while back (that's my wife and I with Nick in the middle at the Queen Mab Ball that year), and he and his wife Lisa have been friends of ours since they first came to town years ago. Nick was an incredibly talented craftsman, and you can see some of his handiwork in the beautiful restoration work at the Excelsior House, along with many of the historic homes here in Jefferson - including The Grove. I could spend the rest of the GroveZine talking about Nick, telling all kinds of wonderful and fun stories about him. He was a great guy, and died suddenly a week ago. It was a shock to all of us here in town; he was so loved by everyone. The last time I saw him was actually in the grocery store, where we stood (probably blocking traffic in one of the aisles) talking for some time. We mentioned how long it had been since we got together for dinner, just to have a glass of wine and a bite to eat, and we agreed to do that in the very near future. That conversation will haunt me for years to come, because even though we thought we had all the time in the world to do get together, as it turns out, we didn't. I have many fun stories about Nick, but one of my favorites is a ghost story that happened to him and a few other friends at The Grove at Christmastime a few years ago. That story is one of the last ones that I tell on the tour of The Grove, but when I was starting it on the first tour after his death, I stopped suddenly when the realization hit me that Nick was gone. I already knew that, of course, but it wasn't until I was telling that very familiar story about him that it became real. I stood there for a second, finally explained it to the tour group, and just powered on. I fear that I really brought down the tour, but I couldn't help it. I miss Nick so much, and I wish we'd gotten together one more time, but like I said, we assumed that we had all the time in the world.
Before we get around to talking about Jefferson (and we are definitely going to be getting around to Jefferson), someone sent me link to an interesting news story in the U.K. This is a ghost story that was actually witnessed by police, and includes a levitating family Chihuahua... and some of the officers were 20-year veterans of service. The newspaper reporting this, The Express, is a British paper founded in 1927; in May 2015, it had an average daily circulation of 432,076, so it's not a supermarket rag. They don't seem to be afraid to publish stories about the supernatural - click here to read the story.
While that was interesting, let's move on to Jefferson. We got a call one Sunday from our friends Jerry and Ann who own Claiborne House B&B here in Jefferson, asking us to drop by to see something unusual that was going on at their place. We were about to go out for a meal at Don Juan's (our local Mexican Food restaurant), so we stopped at Claiborne House on the way. We talked to them in the kitchen for a minute, and then Ann led us to a utility closet under the stairway. She opened the door, and told my wife to go inside and listen carefully in one particular corner. When she came out, my wife told me to try it, so I did. I heard two things, both faint: some kind of old fashioned music, and the mutter of people talking. It was almost like I was in a room listening as some people had a party down the hall. This was a Sunday afternoon, so their B&B guests had already checked out. There was no one in the house but the four of us, and there were no radios, televisions, or anything else on. They'd even turned the air conditioning off when we got there just to make sure it wasn't causing any noise. Also, this was under the stairs, and the other side of the wall was just the downstairs hallway that you see in the photo. We pondered and examined the situation, but could come up with no real explanation. I suppose a quantum physicist would propose that there was some type of time portal there that was allowing sounds from a bygone era through. I know that is kind of out there, but there is a very fine line between quantum physics and what we call "supernatural." Here's a link to the ten weirdest things in physics, including the fact that there is no past, present or future; that there are an infinite number of me's writing this, and an infinite number of you's reading it; and my favorite, if the sun was made up of bananas it would be just as hot. So did some time portal open up in the stairway closet at a Jefferson B&B, or is it merely some supernatural phenomenon manifesting on a Sunday afternoon? Who knows... certainly not me. But I did hear it, and try as I did, couldn't explain it.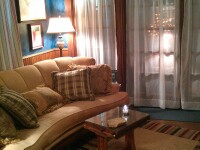 I love getting emails from visitors to The Grove talking about their personal experiences, and received one that was very interesting. I received an email that said, "A friend had taken the tour of your home a couple of years ago, and anyway her sister was wearing blue earrings and she told me that something kept pulling at her earrings. It couldn't have been her hair tugging, because her hair style was a bob type cut short." I've heard similar stories over the years, especially in the den, with people getting jewelry or their hair pulled. On one tour I saw a girl's necklace yanked off of her - it didn't slip off or fall off, some unseen hand snapped it off her. We were all surprised to say the least, but I shouldn't have been, living here at The Grove for all these years.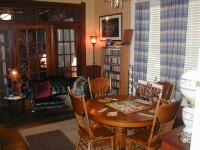 And speaking of the den, the new room that wasn't added 'til 1870, we walked in on a tour a few weeks ago and a woman on the tour said, "Does anyone ever get sick in that last room? I did!" I just smiled and told her about the GroveZine, and invited her to go back and read the archives. Over the last decade or more, we've had people get a queasy feeling in the dining room or game room, and two ladies have even fainted. In all these years, only once has it been a man; mostly it's women. Thankfully it doesn't happen every tour, or even every week, but it definitely does occur every so often. I've come to believe that it happens to ladies who have a particular sensitivity to the supernatural, but aren't necessarily aware of it.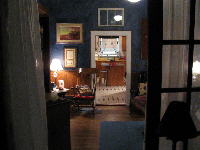 Last month I mentioned how many people want to come to The Grove at midnight because that's some mystical hour that Hollywood has sold us on. Things happen at different times throughout the day, however. Case in point - a couple of weeks ago I was sitting in the den at my computer, working on a book, when some movement caught my eye. I looked up into dining room and saw a shadow figure pass by in front of the door. I couldn't help but get up and walk to the front of the house, but of course, no one was there. Shadow people fascinate me, and we've experienced them at The Grove since we first purchased the house fourteen years ago. After all this time, though, I'm still no closer to understand what they are.
To round out this issue, I have a couple of photographs that were taken on a the tour of The Grove by a lady who was kind enough to share them with the GroveZine readers. I'm fascinated by this first photo, because although it seems to be a standard "orb" picture, there's a lot more to it than that. I've done a lot of research and study on the topic of orbs, and even did a full presentation on the subject at a paranormal conference a few years ago. Most people dismiss the entire subject of orbs because there's no question that they are often reflections of light from a speck of dust or droplet of water in the air. This is easy to demonstrate - the next time that it's raining at night, get a digital camera and walk outside and take a flash photo. You'll get hundreds of "orbs" as the flash bounces of the raindrops in the air. Same thing in a dark room when the flash happens to catch a dust particle. These don't happen outside in the daylight, however, yet that's exactly what was caught in this picture, which was accidentally taken on the front steps of The Grove. It's not a flash photo, so all of the standard explanations of orbs go out the window. The bottom line is this: I have absolutely no explanation for the light anomaly in the picture below:

This second photo is even more interesting, because to be honest, I have absolutely no idea what the dark snake-like thing is in the picture! There was a period in my life when I worked as a professional photographer for a number of years, and did a lot of experimenting with special photographic effects. I've seen (and explained away) all kinds of things over the years, but this one leaves me scratching my head. The most amazing thing about it is that "whatever it is" seems to be passing BETWEEN THE FRENCH DOOR AND THE TELEVISION! Wow. I have no way to explain it... none at all. That is truly one of the most dramatic photos that I've seen, from The Grove or anywhere else. I mean, you can actually see the "thing" through the windows of the French door - it's on the other side. It wasn't visible to the naked eye, and only showed up in the photograph. Again, wow... check it out:


Enjoy haunted places? Then click on the haunted house below to check this out...


The GroveZine is sponsored by the Haunted Shirt Club...
click the banner above to learn more!
Here's what's coming up around Jefferson...


10/7-9/2016 - Burn Benefit Bike Rally
10/8/2016 - Carnegie Library Big Green Eggfest
10/15/2016 - 15th Anniversary Original Texas Bigfoot Conference
10/16/2016 - Annual Taste of Jefferson
11/4-11/5/2016 - 5th Annual Medievel Wine Faire
11/5/2016 - History, Haunts and Legends Paranormal Conf.
11/26/2016 - Jefferson Christmas Parade
12/8-12/10/2016 - Candlelight Tour of Homes
1/27-1/29/2017 - Jefferson Quilts on the Bayou
2/24-2/26/2017 - Mardi Gras Upriver
...and much more throughout the coming year!
---
This is a free subscription ezine for friends of The Grove - in other words, we NEVER arbitrarily add email addresses. We also NEVER sell or share email addresses with anyone else.
Feel free to pass the GroveZine on to your friends - all I ask is that if you forward it, please include the header, trailer and everything. Thanks!
To subscribe, just go to The Grove's Website and put your email in the blank at the left bottom of the page.
To unsubscribe, although we'd sincerely hate to lose you, simply follow the directions at the bottom of the this email.