www.thegrove-jefferson.com ISSN 1558-3252
"Death is no more than passing from one room into another." - Helen Keller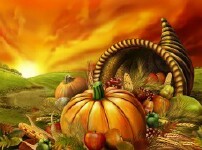 Hi everyone! This is another giant, mega-sized GroveZine that covers a couple of months. I don't know where time is going - I mean, I looked up, and it's almost the end of the year! The days are flying by way too fast for me, probably because I've been working on a couple of different writing projects. Since the last GroveZine we've had Halloween, Jefferson's Fall History, Haunts & Legends Conference, and just last week, Thanksgiving. Whew! Well, we'd better try to get caught up - welcome to the latest GroveZine, and I hope that you enjoy it. Let's jump right in!
Before we do, I have to say that I'm a little excited about November coming to a close. You see, I've been doing the "No-Shave November" thing... I haven't shaved since the end of October. The national campaign is to raise awareness about men's cancers, and that's kind of important to me - my dad died from prostate cancer a few years ago. God love Dad, when his doctor was telling him the terrible news, his first thought wasn't of himself, but of me. He asked the doctor whether I'd inherit it - the doctor told him that while you don't inherit the cancer, I would inherit the tendency. While growing a full beard won't keep me from getting that horrible disease, if it raises awareness of it to work towards a cure, I'm happy to do my part. But I am looking forward to shaving back to the Van Dyke that I usually wear.
And on a completely different (and much more frivolous) note, I saw something in our local Brookshire's Grocery Store that made me stop in the middle of the aisle and stare. When I was sure that it was what I thought that it was, I had to snap a photo to share with the GroveZine readers. It is a combo doggie poo pouch and cell phone holder... and no, I'm not kidding. It even has a carabiner to clip the whole thing onto your belt loop while you're out for a walk with your four-legged friend. It even has a dispenser for little bags to put the poo in, I guess before you store it handily in the bag. But hopefully not in the same side of the pouch as your phone, I guess. Is it me, or is this just plain weird? I mean, do we really need this particular invention?
If you've been to Jefferson this year, you may have noticed more and more golf carts around town. The city passed an ordinance a while back allowing them to be driven on city streets. Not the major ones, like Hwy 59, Hwy 49, and Polk Street, all of which are maintained by the Texas Dept of Transportation. Any city streets are okay, though, so more and more people are getting golf carts. There's even a business in town that rents them to visitors by the hour or by the day - and some visitors are even bringing their personal carts on a trailer to use while they're in Jefferson! Well, we finally joined the craze, and have a cart to cruise around town in. Personally, I love it - it's relaxing, and a great way to get around Jefferson.
A big event that happened recently was the Texas Sounds Country Music Awards that are held in Jefferson, Texas. Country music performers from all over the world descend on the city for a four-day country music festival. This year artists from Croatia, England, New Zealand, South Africa, Canada, Spain, Denmark, Sweden, Netherlands, Belgium, Australia, and of course, the U.S., performed at the festival. On the final Sunday evening, the annual awards ceremony was held to recognize international excellence in Country Music.
Just before the music festival, I was very fortunate to get to attend a party where members of the Croatian band "Country Strike" were special guests, so it was very interesting to get to talk to the various members of the group. They were a great bunch of folks, and it was very surprising how much we had in common. They were from half a globe away, but we had so much in common that they could have been neighbors from just down the street. When I got home that evening I brought up some of their music on Youtube, and I loved it. To check it out for yourself, just click on their photo.
The next day, I happened to be driving through Oakwood Cemetery, and I stopped at Diamond Bessie's Grave. My friend Ann who owns Claiborne House B&B here in Jefferson came zooming up on her golf cart with another lady riding shotgun, and when Ann jumped out she was very excited. "I just told Sarah that I wished you were here to tell here about Diamond Bessie!" she said, and then introduced me to Sarah Lucy Dole, an award winner at previous Texas Sounds Country Music Awards. Ann told me that Sarah wanted to sing a song to Diamond Bessie, so while she did that I recorded it with my phone. The song was "My Life," and it was incredible. Click on the photo to hear it.
After Sarah finished her song, she wanted to hear the story of Diamond Bessie, so I gave her the abbreviated version of the tale. She was fascinated by the story, and kept asking questions about different points of the murder and resulting trials. I could tell that her mind was already working on something, and before I left, she told me that she really felt led to write a song about Bessie. As we talked, a yellow butterfly was fluttering around us, and Sarah smiled and said that she'd heard that the spirits of the deceased sometimes came back in the form of butterflies. Because of some things that have happened to me in the past, I couldn't argue the fact, but I told her that I'd burn the video to disc and drop it off at Claiborne House later in the day.
I stopped by Claiborne House later with the disc, and found Sarah on the back porch with Ann & Jerry who own the B&B. Sarah was working on a song about Diamond Bessie, and she sang part of it for me. As she was doing so, a yellow butterfly just like the one at the cemetery flew in and fluttered around her. Of course, I know that there were probably a number of them across town, but it was just kind of interesting the way that it all happened. Sarah was thrilled by it, and took it as a sign that perhaps Bessie was giving her blessing to the song... but more about that to come.
The term "supernatural" means "outside of the natural world," or "things outside of our everyday life." Some people scoff at the idea of ghosts, but somehow accept things that are shrouded in the world of science. I recently saw a perfect example of this - not from Jefferson, but from here in the states. There was a young man who was injured playing soccer and went into a coma. When he awoke, he was speaking only fluent Spanish - his English language skills were completely gone. It was explained away in the fact that he had Hispanic friends who he'd heard speaking Spanish... but... really? He would suddenly and inexplicably wake up speaking complete, fluent Spanish, and not able to speak English? The Spanish faded and the English language finally came back. This is documented and indisputable, and I think that it is an extremely interesting trait of the young man's mind, that is... well... supernatural - outside of the natural world that we understand. Fascinating to contemplate, right?
At this Fall's History, Haunts & Legends Conference here in Jefferson, I did a presentation on the phenomena of "Black Eyed Kids." If you'd like to hear my presentation, along with the slide show that accompanied it, just click on the photo. It lasts about thirty minutes, and it is direct from the conference. There are professional Black Eyed Kids presentations online that have studio-produced audio effects that are out of this world, but this is simply my presentation recorded live at the conference this Spring.
This past Halloween a newspaper from Marshall, Texas, a city just fifteen miles down the road from Jefferson, published a piece on a place called Stagecoach Road. I'd been out there a number of times, and its ghost stories abound. I'd never seen it discussed in the news, though, so it was quite a surprise to open the paper up and read an article on the supernatural side of Stagecoach Road. To check it out, just click on the photo that I took; after reading the article, I just had to go back out there and visit it again!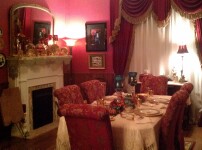 Meanwhile, back at The Grove, we had a recent visit from our gentleman spirit who smokes a pipe. We don't smoke or allow smoking in the house, but since we bought the house almost fifteen years ago we sometimes smell tobacco smoke in the front of the house, usually in the dining room. It happened on the tour one day and as we all walked into it, one lady said, "That's Prince Albert pipe tobacco - my father smoked it his entire life, and I'd recognize it anywhere!" I thought that was so interesting that I found an old metal tin of that brand of tobacco at one of Jefferson's antique stores a while back, and I bought it and put it out in the house, just to make old fellow feel at home. In the last few weeks, he must have walked back through the house, because a couple of ladies who were on the tour smelled pipe tobacco up front and asked me about it later in the tour. "I said, yeah, well, we've got this spirit who comes by occasionally..."
Another phenomenon that occasionally happens at The Grove is a lady feeling ill on the tour - especially in the front part of the house. Those of you who've been reading the GroveZine for a while probably remember stories of this throughout the years. When it happens, I can sometimes see that a person is having a problem, and help them to just have a seat and power through it. Just as often, though, someone just leaves the tour. I hate to see that, because in every single case when we move out of the front part of the house, whoever is having the problem is fine. We'd had a few ladies leave the tour up front recently, so I started giving our guests a gentle warning to watch out for that. When I did on a recent Sunday, a lady said something like, "Funny you should mention that - I felt an extreme pressure on my upper body out on the front porch!" Like I've said before, I think that this is a case of a person being very in touch with the supernatural world, but never having been in such an active place before.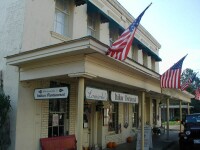 We don't only get stories about The Grove from our guests, however. This past month a lady on tour told me that she was shooting video out by the Jefferson Hotel the night before, and saw a small, round light - an orb, I suppose, by any definition - flying around the side of the hotel. As she recorded it, the light anomaly came toward her and zoomed past her, and all this was not only caught on video, but was also witnessed by a friend who was with her at the time. I know that orbs take a bum rap, and I understand why. Take a flash photo in a rainstorm and you'll get a million of them. But I've also seen some "orbs" that I'm not sure how to explain... which takes me to the last item in this GroveZine...
If you remember from above, when we last left the British singer/songwriter Sarah Lucy Dole she was finishing a song about Jefferson's favorite daughter, Diamond Bessie (google her if you don't know the story). Anyway, she'd been visited by a yellow butterfly out at Bessie's grave in Oakwood cemetery, and then again at the Claiborne House on the deck as she was working on the song, but there were any number of other coincidences. When they were filming the video to accompany the song, the young lady playing Diamond Bessie looked at the grave marker and saw that the date on it was her birthday. Sarah Lucy Dole (her stage name) was reading my book on Bessie, and saw that the girl that discovered Bessie's dead body has her exact name. Of course, there was also me showing up at the cemetery when Ann was telling Sarah that she wished I was there to give the full story... well, the list goes on and on, so I won't belabor the point, but I'll just say that the "coincidences" around the writing of this song were stacking up, and for someone like me who doesn't believe in coincidences, that was a major thing. The whole event culminated in the video that you're about to see. Jerry & Ann from Claiborn House B&B had taken the singer/songwriter Sarah Lucy Dole out for dinner, and Sarah had left the handwritten song and music on the bar in the kitchen. The common areas of the B&B have security cameras, so when they got back in Jerry was scanning them like he always does to see if there was anything of note. That's when he saw the video you're about to see. Their security cameras are on a four-way split screen, so I shot this of one of the quadrants on my cell phone, which is why it's moving around a bit. Watch the doorway in the back... at one point a ball of light - an "orb" if you will - comes in through the door, moves through the kitchen, goes over the manuscript, moves back as if to examine it, and then takes the shape of a heart before disappearing altogether. All that said, click on the photo of the kitchen to watch it, and then let's get back together to re-group and talk, because I know exactly what your first impression will be.
Okay, you've hopefully watched it by now, and most people immediately say, "It's a moth - the heart is formed by the wings!" Okay, I hear what you're saying, but why does that only happen at the end after hovering over the Diamond Bessie song manuscript? And why aren't the wings flapping? If it's a moth, they extend and then never move again - the "moth" hovers with its wings stretched out, which would be an aerodynamic impossibility. And why are we only seeing the fore wing and not the hind wing? (google to see moth body structure) And why don't we see any kind of wing movement as it moves through the room? I encourage you to re-watch it with a more critical eye. You'll see that when it passes over areas of high contrast, like the edge of a door frame, you can see through it. I'm not willing to say exactly what it is, but I can tell you that it's not as easy an explanation as you might assume on the first viewing. Sarah Lucy Dole called us in tears to tell us about it, taking it as a sign that perhaps Bessie approved of her song and the memorial that she was giving her with it. And who knows.

Well, just a month and 2016 is over and we'll be ushering in a new year. I can't believe it, but it's happening! Christmas will be here before you know it, followed by New Year's, then Mardi Gras here in Jefferson, the Spring History, Haunts & Legends Conference, and summer, and... wow, I don't even want to think about it! For now, I'll just wish you a great, blessed Holiday Season - Christmas, Hannakah, Kwanzaa, Winter Solstice, or whatever you choose to celebrate.



My fondest wish is that this last month of 2016 is your BEST month of 2016. Talk to you soon!

Here's what's coming up around Jefferson...


12/8-12/10/2016 - Candlelight Tour of Homes
12/16/2016 - Naughty & Nice Pub Crawl
1/27-1/29/2017 - Jefferson Quilts on the Bayou
2/24-2/26/2017 - Mardi Gras Upriver
3/25/2017 - Jefferson Gun & Knife Show
3/31/2017 - Jefferson City-Wide Garage Sale
4/1/2017 - Jefferson Spring History, Haunts & Legends Conference
4/14/2017 - Outlaw Nationals Hotrod Show
5/5-5/6/2017 - Pilgrimage Tour of Homes
5/5-5/6/2017 - Diamond Bessie Murder Trial Play
6/2/2017 - Corvette Show
...and much more throughout the coming year!
---
This is a free subscription ezine for friends of The Grove - in other words, we NEVER arbitrarily add email addresses. We also NEVER sell or share email addresses with anyone else.
Feel free to pass the GroveZine on to your friends - all I ask is that if you forward it, please include the header, trailer and everything. Thanks!
To subscribe, just go to The Grove's Website and put your email in the blank at the left bottom of the page.
To unsubscribe, although we'd sincerely hate to lose you, simply follow the directions at the bottom of the this email.