www.thegrove-jefferson.com January 2017 ISSN 1558-3252
"Death is not the end, it is simply walking out of the physical form and into the spirit realm, which is our true home. It's going back home." - Stephen Christopher
Welcome to 2017! Glad to see you on this side of the holidays. I hope that everyone survived all of the food and festivities; we had a wonderful time getting to see friends and family over Christmas and New Years. We did a bit of traveling, and got to attend a few parties here and there, so it was a very festive time. We were at a New Years party and since it was misting rain, we bailed to get ourselves into the dry. We ended up toasting in 2017 right here at The Grove. My wish for all of the GroveZine readers, and our New Years toast, is that we all have a safe, happy, healthy and prosperous year.
Okay, the well-wishes of that toast didn't go too far, at least for us. Hopefully it's not an omen for the rest of 2017, but my wife and I started out the year by both contracting the flu - "type B," according to the doctor. She brought it home first and I was determined not to get it, but two days later and I felt feverish, and I was as weak as a newborn kitten. I barely got vertical for two days, moving from the bed to the couch to the recliner and then back to the bed. It was a completely lost week for both of us, and we had to miss work and even two parties that we'd been invited to. My wife ended up going back to the doctor a second time, but after basically doing nothing for seven days, the rest allowed our bodies to triumph over the bug. What a way to bring in the new year!
But now, get ready for the grand opening of my new business... Mitchel's Psychic Golf Cart Repair! Okay, not really, but I have been chuckling to myself over the last month. I mentioned in the GroveZine a month or so ago that we've joined the ranks of Jefferson residents who have a golf cart. Since they're legal to drive on the city streets here in town, the numbers are growing. Anyway, we've been doing some customizing on our cart, and one thing that I've learned is that nothing is as easy as it's supposed to be. Because they're after-market custom additions, they never fit like they're supposed to and there are always problems to overcome. Twice now I've thrown up my hands in frustration and just walked away from something that I couldn't solve. But twice now, without going to bed thinking about the issue at all, I've had a dream that showed me exactly how to fix whatever problem I was having. The next morning I've gone right outside, followed the steps that I envisioned in my dream, and bada-bing, bada-boom, the problem was resolved. Don't get me wrong - I'm not claiming any supernatural golf cart repair activity. I realize that one of the things that your brain does with dreams is to use them to work through your problems and concerns, and certainly that's what has happened here. Still, the dreams were very real, and in both cases the solutions were outlined in a step by step procedure that I hadn't even thought of before, and I actually did the work and resolved the problem in my dreams. How cool is that? I'm a little disappointed that I don't have any new golf cart problems to work on in my sleep... but on the other hand, maybe I'd better be careful what I wish for!
It's not unusual to have the feeling of being watched while at The Grove, but I had a variation on that theme a week or so ago. My wife had just left for work and I was getting ready to start my own day, and I was walking down the hallway. When I stepped into the stairwell I had a very strong feeling that someone was watching me. Again, that's not all that surprising and it's something that simply happens from time to time. I happened to look up the stairs, and spotted the culprit. It wasn't one of the spirits of The Grove, but instead was Elsie, one of our cats. She'd not only climbed the stairs, but had also jumped on the railing so that she was basically at the highest point overlooking the parlor. I just pulled out my phone, snapped a photo, and said, "Crazy cat..."
One of the things that I've received a lot of comments about over the last month is the bowling alley from last month's GroveZine. The folks that I've seen in person, and those that I've heard from by email, were excited and said, "I heard two bowling balls rolling!" I understand that, but you should have been standing there to hear them live. I don't think that you'd classify this as an EVP, since although it did record, we also heard it while standing right there in the gangster's bowling alley basement. And five of us heard it - my wife and I, our two guides, and the owner of the building. It just doesn't get any more interesting than that!
One of the first ghost stories of the year isn't about The Grove, but is instead about Drottningholm Palace, which was built in the 1600s on Lovon island in Stockholm and is the permanent residence of King Carl XVI Gustaf and Queen Silvia of Sweden. Queen Silvia admitted that the palace is haunted, saying, "There are small friends... ghosts. They're all very friendly but you sometimes feel that you're not completely alone. It's really exciting. But you don't get scared," she said. Ghost hunters and paranormal enthusiasts talk about the supernatural all the time, but it's not every day that the queen of a country gives a public statement about such things. You can read the entire story by clicking here.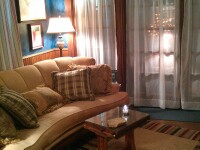 We took some time off from the tours for the holidays, and cranked things back up in January. I guess that our mischievous spirit had been getting a little bored, because he was very playful on the first tour of The Grove for 2017. We'd finished up the tour and were back up front, when one of the ladies said, "I have to tell you this - when we were in the den, someone was pulling my hair... but no one was near me." Another lady looked shocked and said, "You, too? I thought that I was going crazy, because the same thing was happening to me!" Whoever he is, he definitely enjoys doing that. On a different tour a few weeks later, a woman told me, "My husband and I toured The Grove several years ago, and when we did, someone was playing with my hair!"
People getting their hair played with or pulled is one of the most common things that happen on the tour. That, and ladies getting a queasy feeling in the Dining Room. There are other things that aren't everyday occurrences, though, and one of them is the phenomenon of "shadow people." These dark, human-shaped shadows seem to dart about and you catch them mostly in the corner of your eye. We'll go weeks, and even months, without seeing them. For some reason it just starts up, though, and they'll be concentrated in one part of the house or another. Lately they've been in the hallway, darting about, and we're not sure why... or how long it will continue. It's all just a part of living at The Grove, I guess!

Here's what's coming up around Jefferson...


2/24-2/26/2017 - Mardi Gras Upriver
3/25/2017 - Jefferson Gun & Knife Show
3/31/2017 - Jefferson City-Wide Garage Sale
4/1/2017 - Jefferson Spring History, Haunts & Legends Conference
4/14/2017 - Outlaw Nationals Hotrod Show
5/5-5/6/2017 - Pilgrimage Tour of Homes
5/5-5/6/2017 - Diamond Bessie Murder Trial Play
6/2/2017 - Corvette Show
...and much more throughout the coming year!
---
This is a free subscription ezine for friends of The Grove - in other words, we NEVER arbitrarily add email addresses. We also NEVER sell or share email addresses with anyone else.
Feel free to pass the GroveZine on to your friends - all I ask is that if you forward it, please include the header, trailer and everything. Thanks!
To subscribe, just go to The Grove's Website and put your email in the blank at the left bottom of the page.
To unsubscribe, although we'd sincerely hate to lose you, simply follow the directions at the bottom of the this email.