www.thegrove-jefferson.com February 2017 ISSN 1558-3252
"You are a ghost driving a meat-covered skeleton made from stardust riding a rock floating through space. Fear nothing." - Unknown
Welcome to the February GroveZine! I have an amazing announcement to make. In going through the attic of the Historical Museum downtown - which used to be the courthouse in the 1800s - we are very fortunate to have discovered an antique photo of the parlor of The Grove, probably from the 1860s, best we can date the picture. It shows some of the original furniture that the Stilley family used back when the house was first built...
Okay, okay, you're right... that's not a historic photograph, and it wasn't found in some historic location... But what is it? And why are there metal lawn chairs in the parlor of The Grove? The mystery deepens, and will be revealed in a future GroveZine!
You know, there are some things in life that just completely confuse me. I'm not talking about things that you'd expect to be confusing - like if I was reading up on quantum physics or contemplating the mysteries of life and the universe. No, instead I found myself in a state of complete befuddlement while standing in the grocery store aisle the other day. I'd just walked down the row of laundry detergents and noticed that Tide had one particular version with the scent of Febreeze. That's no big deal, of course, but as I rounded the corner and walked past the air fresheners, I saw that there was a can of Febreeze with the scent of Tide. So if the Tide smells like Febreeze and the Febreeze smells like Tide... what in the world do they smell like? Seriously, what does the Febreeze smell like? Well, it smells like Tide. But what does Tide smell like? It clearly smells like Febreeze... which smells like Tide. Is it just me, or is there something weird about this? It's like which came first, the chicken or the egg, right? There are just some things in life that I don't think I'm meant to understand.
We had a successful Mardi Gras in Jefferson again this year, and the crowds were as large as I've ever seen them. I've heard estimates from 20K to 30K and all the way up to 40K, which is huge for a little town of just two thousand people. The parades were fantastic and there's no telling how many beads were thrown. The Mardi Gras season always starts out with the Queen Mab Ball, where the King and Queen for the festival are presented, and we're in a group with three other couples that get a table every year. You're expected to decorate your table, and they have judging for the best decor. An elaborate trophy is presented that night at the ball for the best table. The ladies did a great job, even hanging a faux chandelier from the ceiling over our table, and when the officials announced the winner - it was our table! Here are the ladies posing with the huge trophy that we won. We're each keeping it three months, and then passing it on. We've had it on display at The Grove during the tours... hey, we're proud of it!
Coming up soon, on April 1, is the Spring 2017 History, Haunts & Legends Conference here in Jefferson. It's a day full of speakers on various paranormal topics, followed by a nighttime excursion into the haunts of Jefferson. I've made every single one of these, and I look forward to them every year. It really is a wonderful, informative conference. If you'd like more info, just do a quick search for the History, Haunts & Legends Facebook page, and it has all of the info that you'll need. See you there!
People are always sending me news stories with a supernatural slant, and I enjoy sharing some of the more interesting ones. This one from Granada caught my eye for a couple of reasons. First of all, they had a photo that was captured by the person who had the experience. But more than that, I had a little bit of a beef with the whole incident because they were talking about getting an exorcist. If the city hall is haunted, why in the world are they talking about calling in an exorcist? Exorcists deal with demons, which are completely different things from ghosts, or spirits. Even the Bible makes a distinction between the two. I guess that sometimes people just lump all "supernatural" things into the same category. What they actually need is a paranormal investigator to help them understand what might be going on. The mayor also said that he can't afford to hire someone, however, and I don't know a single reputable paranormal investigator that charges anything at all. People get so confused when it comes to the paranormal... kind of like me and the Tide/Febreeze scents, I guess. Anyway, click on this link to read the news story.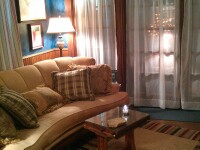 Toward the end of the month we had a tour and our mischievous guy was at it again. When I'm talking and telling some of the stories of The Grove, I try to keep looking around and making eye contact with everyone. It's a good thing to do, because it makes the tour a bit more personal, and lets me connect with our guests. The side benefit is that I can see if anyone is looking tired (so I can offer them a seat), or bored (which hopefully doesn't happen, but I can start making adjustments), or ill (recall from past GroveZines that we've had a number of people get queasy in one particular area). On this tour, I happened to be looking at a gentleman, and he suddenly jumped, and then quickly looked around behind him. I thought, "Oh boy, I'll bet there's a story there." Sure enough, after the tour he told me that he was just standing there listening to me when someone poked him in the back with a finger. He didn't know the other folks on the tour so he must have thought that to be very strange, but when he looked around, no one was near him. I just smiled when he told me, and said, "That's our mischievous guy... if you read back through the archived GroveZines, he shows up a lot, pulling hair, tapping on the shoulder, and just generally playfully messing with people."
Finally, I want to mention some odors in The Grove. I have no idea why spirits manifest in such different ways, but they do; some we actually see, some we feel the presence of, others make noise like calling our name, and some come across as odors. Two that we've had happen since we first bought the house fifteen years ago are the smell of a pungent body odor (thankfully that one doesn't happen all that often, but did show up when we were on the Candlelight Tour of Homes one year) and then pipe tobacco. We don't smoke or allow smoking in the house, yet occasionally there is the unmistakable scent of pipe tobacco in one part of the house. It even happened on the tour one day, and a lady said, "That's Prince Albert pipe tobacco - my father smoked it his entire life, and I'd recognize it anywhere!" One that usually happens late at night (and mostly in the Den) is a super-sweet perfume that wrecks havoc on my wife's sinuses. It's like a lady walked in the room with the heavy floral scent that was popular back in her day. My wife always politely asks here to leave (thought the sneezing) and she always does. This month there was a new one, however. My wife was sitting on the couch with her laptop, when a very pleasant aroma filled the room. She said that it was part jasmine, part vanilla, but very balanced and not overbearing. When I asked whether she told the woman to leave, she said, "No! It was great!" She stayed for some time before it finally dissipated. You know, I've always said that after I've passed over to that other side, I'd be coming back to the rocking chair on the front porch of The Grove. When I do that, I wonder if the current owners will smell a cup of coffee as they see the chair rocking...

Oh well, time to wrap up this GroveZine and get back to work. I'm putting the finishing touches on a new book that I'll be telling you about in the next month or so, and that's kept me very busy. There's a lot coming up - the History, Haunts & Legends conference in a few weeks, the Historic Jefferson Pilgrimage not long after that, and it will be summer before we know it. Thanks so much for reading the GroveZine - I enjoy getting to share our little tales of life in Jefferson and at The Grove. Have a great March!
Here's what's coming up around Jefferson...


3/11-3/12/2017 - Jefferson Gun & Knife Show
3/31/2017 - Jefferson City-Wide Garage Sale
4/1/2017 - Jefferson Spring History, Haunts & Legends Conference
4/14/2017 - Outlaw Nationals Antique Hot Rod Show
5/5-5/6/2017 - Pilgrimage Tour of Homes
5/5-5/6/2017 - Diamond Bessie Murder Trial Play
6/2/2017 - Corvette Car Show
7/4/2017 - Jefferson Salutes America
9/9/2017 - Fire Brigade Benefit Car Show
10/14/2017 - Grillin' on the Bayou, Jefferson Eggfest
12/7-12/9/2017 - Candlelight Tour of Homes
...and much more throughout the coming year!
---
This is a free subscription ezine for friends of The Grove - in other words, we NEVER arbitrarily add email addresses. We also NEVER sell or share email addresses with anyone else.
Feel free to pass the GroveZine on to your friends - all I ask is that if you forward it, please include the header, trailer and everything. Thanks!
To subscribe, just go to The Grove's Website and put your email in the blank at the left bottom of the page.
To unsubscribe, although we'd sincerely hate to lose you, simply follow the directions at the bottom of the this email.