www.thegrove-jefferson.com April 2017 ISSN 1558-3252
"Somewhere, something incredible is waiting to be known." - Carl Sagan
Hello everyone, and welcome to the latest GroveZine! I really appreciate you following our little experiment to document life and times at The Grove. The last two months I've kind of become obsessed with items that I've seen at the grocery store... specifically, the scents of certain things. They're making laundry detergent to smell like room deodorizer, and room deodorizer to smell like laundry detergent. This has been blowing my mind.
Given that fact, once again I found myself standing in the grocery store aisle shaking my head when I got to the automotive section. Febreeze makes these little car air fresheners that clip onto an air vent (you've probably seen them on TV ads) and they come in scents like "tropical island," "summer rain," or "fresh linen"... even "new car scent." Okay, I understand those, but I was once again surprised to find that they're now making them in the odor of laundry. This photo shows the ones that you can purchase to make your car smell like "Gain" or "Tide" laundry detergents. I mean, really? Am I the only one baffled by this? It's real, though - as the late comedian Jerry Clower would say, "If I'm lying, I'm dying!"
Maybe next they'll have Tide-flavored beer, or pizza, or tortilla chips. While that doesn't sound appetizing at all, it does seem like the next logical conclusion.
There's something coming up here in Jefferson that promises to be intriguing, exciting, and just downright fun - the Great Jefferson Historical Museum Treasure Hunt. It takes place on Saturday, June 10, and the grand prize is $1,000! Since it's a treasure hunt and not a race, everyone who correctly completes the course has a chance to win. All the proceeds go to the museum, so it's for an extremely worthwhile cause. Want to know more? Just click here - it's going to be an absolute blast!
If you drive by The Grove, you may notice a new sign out on the fence. Jefferson has become an iTOUR USA™ city, which means that you can see many of our attractions by using your smart phone. You simply use your phone to scan the QR code, and you'll get history and information about the place, along with a list of nearby attractions and even directions. All this is made possible by a company named iTOUR USA™, which (as they explain on their website) is a dynamic on-location, internet-based, personal tour that can include multimedia presentations such as interactive maps, streaming video, photographs, immersive 360-degree panoramic photographs, audio podcasts, and other media specific to a particular iTOUR USA™ site. We're thrilled for The Grove to be a part of this in Jefferson.
I spoke at the Tyler Paracon this month, and it was interesting because although I was there to be an instructor, I found myself as the student. I was supposed to give my presentation at a certain time, so I went to the room an hour in advance to listen to the speaker, Joan Beasley, who was doing a self-hypnosis session. She turned down the lights, and took us each into a hypnotic state - although there were distractions like people talking in the hallway and a dog barking in a guest room near where we were meeting, all that faded away into the background for me. When she brought us out I felt amazing, refreshed, and energized. I thought, "Wow, how great would it be to start every day out like this!" Before that time I knew nothing at all about self-hypnosis, but I'll be looking into it. I was truly impressed.
Someone sent me a news story from down in Brazil that was very interesting. Michel Temer, the President of Brazil, left his official residence (the Alvorada palace) just ten days after moving in with his family because of all the strange feelings and the fact that he and his wife thought that there might be a supernatural presence there. He said, "I felt something strange there. I wasn't able to sleep right from the first night. The energy wasn't good." You can find the entire story by following this link. Interestingly enough, our own White House in Washington D.C. isn't without its own ghost stories. Harry Truman wrote about hearing footsteps in empty hallways, Franklin Roosevelt heard a disembodied voice coming from the Yellow Room, and William Taft saw a spirit floating through doors on the second floor, the residence of the First Family. Even the Obamas had experiences - Michelle told a group of visiting kids about the President and her waking up to strange sounds outside their door, but upon investigation, found that the hallway was completely empty.
Closer to home, it was a very active month at The Grove - mostly because of the visit of a little girl. We have some friends who came up for a weekend, including their seven-year-old daughter. For some reason, the house came alive with the little girl here. She experinced the creepy guy who hangs out in our stairwell, and saw a woman walking through the house. Even our mischevious spirit became active, because he kept throwing the deadbolt between the kitchen and the hallway to tease us - three times, in fact. Maybe it has been such a long time since we'd had a youngster visiting the house that the spirits decided to show how happy they were with her being here!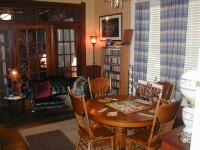 And it continued on during most April tours. It seemed like there was always someone getting pinched, touched, squeezed, or having their hair pulled. Not that this is unusual at The Grove - it isn't - but the activity seemed to step up a bit once our friend's daughter had been up for a visit. I don't know why this would make the house become so active, but there's no question that it did. Our friends are coming up again this Summer, so I'll be anxious to see what happens then!

So, that's the GroveZone for the month of April. As I said at the first, thanks so much for reading the 'zine and keeping up with the continuing stories of The Grove. Next month I'll have stories about Pilgrimage in Jefferson, the Diamond Bessie play, and who knows what else. I'll look forward to talking to you then - until that time, have a wonderful, healthy, prosperous month!
Here's what's coming up around Jefferson...


6/1-6/3/2017 - Corvette Car Show
6/10/2017 - Jefferson Historical Museum's Great Jefferson Treasure Hunt 7/4/2017 - Jefferson Salutes America
9/9/2017 - Fire Brigade Benefit Car Show
10/14/2017 - Grillin' on the Bayou, Jefferson Eggfest
10/13-10/14/2017 - Jefferson Christmas Parade
11/25/2017 - Jefferson Christmas Parade
12/7-12/9/2017 - Candlelight Tour of Homes
...and much more throughout the coming year!
---
This is a free subscription ezine for friends of The Grove - in other words, we NEVER arbitrarily add email addresses. We also NEVER sell or share email addresses with anyone else.
Feel free to pass the GroveZine on to your friends - all I ask is that if you forward it, please include the header, trailer and everything. Thanks!
To subscribe, just go to The Grove's Website and put your email in the blank at the left bottom of the page.
To unsubscribe, although we'd sincerely hate to lose you, simply follow the directions at the bottom of the this email.