www.thegrove-jefferson.com May 2017 ISSN 1558-3252
"Death is nothing more than a doorway, something you walk through." - Dr. George Ritchie
Hello, and welcome to the May GroveZine! We've got an interesting mix of things, from ghost stories to barbecue to a brand new book, all of which I'm delighted to have the chance to share with you. I have to say that it's been a very wet month here in Jefferson - it seems that not only does it rain every week, but the storms bring 5~6 inches of water each time. A week or so ago it came down so fast and hard that the Bayou Bakery restaurant on Austin Street had several inches of water inside, as did some of the other buildings. You can see the Bakery in this photo, and look how deep the person beside the building is wading. While all the water has been a pain, I'd be willing to bet that come August we'll be wishing for some of this rain! But onto more important things...
In the June 2017 issue of Texas Monthly (the national magazine of Texas) they featured the top 50 barbecue joints in the state... and guess what? Jefferson, Texas' very own "Riverport Barbecue" made the list! I love Riverport; I judge barbecue by the way that brisket tastes without sauce the next morning after being in the 'fridge all night, and it's hard to find one better than proprietor Steven Joseph does at the corner of Lafayette and Polk Streets in Jefferson. I'm a big fan, and I was delighted to see them make Texas Monthly's "Top 50" list! If you don't include Riverport Barbecue as one of your meals in town, you're missing out.
And speaking of the Top 50, Texas Monthly is doing a very cool thing - they have a "passport" included in the magazine that you pull out and take with you as you visit all fifty places over the next few years. Texas is a big state, so I'm not sure if we'll actually achieve a visit to all of the Top 50 places, but we're going to give it a try. There's just something about having a quest in your life. Care to take the challenge? Just pick up this month's magazine before it sells out, and start making your plans. You have until 2020 to do it, so there's a lot of potential for road trips and weekend getaways. And of course, one of your stops will be in Riverport Barbecue right here in Jefferson!
On a different note, I just released a new book and it hit the ground running - thankfully, readers have found the subject matter as fascinating as I did when I started researching it. The name of the book is Funeral & Mourning Traditions of the Old South, and it features the kinds of things that your great-grandparents might have told you about... covering the mirrors with black cloth when a death occurs, stopping the clocks, and many, many more things. Some are a little morbid, some are downright weird, but they're all explored and explained in this new book that I had a great time researching and writing. Click here for more information!
Our first ghost story from The Grove comes from the time when it was a restaurant back in the 1990s. The other day we were having dinner with some friends who have a B&B here in town, and she said that she'd been talking to a couple staying with them, and they mentioned going to The Grove Restaurant to eat many years ago. Of course, that was before we owned the place, so our friend explained to her guests that it was no longer a restaurant - it is now a tour home. The guests said something like, "That's okay, we wouldn't go back to eat there anyway." When our friend inquired as to why, the couple said that they'd come to The Grove, opened the door and walked in, but even though all the tables were set in the front of the house there was no one there. They took a seat and waited, and finally a woman in a white dress walked into the room and over to the table. They gave her their drink order, but she just looked at them like she was confused, and then turned and walked away. As the minutes ticked by, they began to feel more and more like something strange was going on, so they gave it a few more minutes and then got up and left... maybe moving a little faster than they did when they came in. You know, I love hearing stories like that from The Grove's past!
When I tell the story of the Lady in White on the tour, people always ask me, "When is the last time that you saw her?!?" I usually have to say, "Well, it's been a month or so." That's not true for May, however. My wife and I were in the den watching TV one night and the door to the game room was open. I glanced up and saw a person go by dressed in white; after processing it for a moment, I told my wife that I'd just seen the lady in white. We both jumped up (we don't run away from the supernatural, we run toward it) but didn't see anything in that part of the house... but the air felt like it was super-charged with electricity.
About a week after I saw the Lady in White go by in the game room, I went out on the front porch for a Sunday morning tour. It was a small tour - only one couple - and so I started telling the story of The Grove. Before we enter the house, I always start the story of the Lady in White, and then finish it later in the tour. I told about her being seen on the east side of the house, and as I said that, the woman's eyes got wide, her mouth fell open and her hands went up to her face. While she appeared shocked, her husband burst out laughing. I was a little puzzled, until she finally said, "We were waiting for you to come and start the tour, so I walked over to the end of porch and leaned over the railing so that I could see along the side of the house. When I did, there was a lady in a long white dress walking away from me. I leaned back up and told my husband that the owner was out there, probably getting ready for the tour." She paused for a second, and added, "When I looked back, she was gone. I didn't see a door on that side of the house, so I was puzzled as to where she went - that's when you came out." I just laughed and said, "Well, I guess that you saw our famous Lady in White!"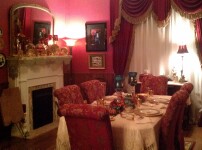 There's an industrial company here in Jefferson that has a large fenced yard for equipment and such behind the main building. On the fence beside the gate there's a large sign that says "XXXX days since our last accident!" There is a large number where those X's are, and I assume that every day they without an accident they go out and bump it up by one. I'm starting to think that we need one of those at The Grove for how long it's been since someone had a dizzy spell in the Dining Room... but I'll bet that number would never be above 30! I say that because that happened again this month; once again, a lady told me how lightheaded she became when she walked into that room. I explained to her that it was very common, and that it would go away as we moved on. I have no idea why that happens, most often in that room but sometimes in the Game Room which is adjacent. It always happens to a woman; I think that only one time in the fifteen years that we've owned The Grove has it happened to a man. On two occasions a lady has actually passed out, and on one of those when we brought her back to consciousness, her husband asked her what had happened and she said, "I don't know; last thing I remember was talking to that woman..." Of course, she hadn't been talking to anyone, she'd been standing there listening to me. It happens often enough that maybe I should just have a counter at the bottom of the GroveZine so you can just look and say, "Yep, it happened again!"

As we wrap things up, I have to mention the "Great Jefferson Historical Museum Treasure Hunt" that was just held. It was a riot! All the participants had a great time following clues all over the historic district of Jefferson, trying to solve the puzzles. The photo that you see is from one of the favorite stops... the clue was "Find the colorful bicycles in line on line." On Line Street here in town, there are a line of colorful bicycles up on a hill - they're even lighted up in color at night - and treasure hunters had to go up and down Line St. looking for them. When they were spotted, an official was seated up at the top with a pulley and would send the next clue down.
There were teams from Texarkana, Shreveport, the Metroplex, and of course Jefferson, and everyone had a lot of fun... and a $1,000 prize was awarded at the end. One of the teams will be familiar to the GroveZine readers who attend paranormal conferences in the area - it's some of the "Scaredy Cats" from Shreveport, Louisiana. They were the only team with matching t-shirts in the competition, so everyone knew them. An official at one of the stops would text back to the finish line say, "I'm still waiting on a few teams, but the Scaredy Cats just checked in..." Everyone knew them by their t-shirts! I think that the Scaredy Cats had a good time, and you will, too - just join us next year for the Great Jefferson Historical Museum Treasure Hunt. Watch the GroveZine for details.
Meanwhile, it's time to say goodbye for the month of May and head into summertime. With all the rain Jefferson has had in the Spring, I'm really afraid that Summer's going to be hot and dry! But we'll see, and as always, we'll survive. Thank you all so very much for reading the GroveZine - I really appreciate you following along with life at The Grove. Talk to you in a month!
Here's what's coming up around Jefferson...


7/4/2017 - Jefferson Salutes America
9/9/2017 - Fire Brigade Benefit Car Show
10/14/2017 - Grillin' on the Bayou, Jefferson Eggfest
10/13-10/14/2017 - Jefferson Christmas Parade
11/25/2017 - Jefferson Christmas Parade
12/7-12/9/2017 - Candlelight Tour of Homes
...and much more throughout the coming year!
---
This is a free subscription ezine for friends of The Grove - in other words, we NEVER arbitrarily add email addresses. We also NEVER sell or share email addresses with anyone else.
Feel free to pass the GroveZine on to your friends - all I ask is that if you forward it, please include the header, trailer and everything. Thanks!
To subscribe, just go to The Grove's Website and put your email in the blank at the left bottom of the page.
To unsubscribe, although we'd sincerely hate to lose you, simply follow the directions at the bottom of the this email.