www.thegrove-jefferson.com September 2017 ISSN 1558-3252
"There is not a grain of dust, not an atom that can become nothing, yet man believes that death is the annihilation of his being" - Arthur Schopenhauer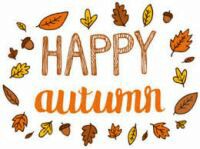 Hello everyone, and welcome to Fall! The temperature has started dropping, local high school football has started up, and the leaves are falling... and falling... and falling. As you probably know, The Grove gets its name from the grove of Native Texas Pecan trees on the property, and once they start dropping their leaves, we start drowning in them. Our strategy has always been to let them all fall before starting the big clean-up, so we still have that to look forward to. We love this time of year, though, especially sitting out on the front porch. It's a great place to just kick back, relax, and watch the world go by! I have some cool stories for you this month, especially the link to a photo at the Stanley Hotel - be sure to click on it and check it out. Let's dive right into September.
| | | |
| --- | --- | --- |
| | The October issue of Texas Highways magazine came out this month, mid-September, and we were excited to see that it featured Jefferson - including the General Store on the front cover. There were a number of great photos from around town, including a photograph and story about The Grove! Our thanks to Texas Highways, and be sure to pick one up while it's still on the stands. | |
I'm gearing up for November, which isn't that far away... once again this year, I'm going to participate in "No Shave November," where men let their beards grow to raise awareness of prostate cancer. Not that growing a beard is going to fight cancer, but the idea is that people will see all the beards, ask what's going on, and learn more about this terrible disease. It's close to my heart because my dad died of prostate cancer several years ago, and if it raises awareness of it to work towards a cure, I'm happy to do my part.
This is a last reminder - Fall is almost upon us, and that means it's time for the History, Haunts & Legends Conference again on November 4, the weekend after Halloween. Jodi Breckenridge, the event organizer, always does a great job for the attendees. I've seen the slate of speakers for the event, and it promises to be one heck of an interesting day. And don't forget, that evening there will be guided paranormal investigations at several locations around town. It's going to be an enjoyable weekend, so Google "history, haunts and legends" to get more information!
GroveZine subscribers who've been around since 2013 may remember when I posted about the Stanley Hotel in Estes Park, Colorado, which was the inspiration for Stephen King's great book The Shining. You can read it in the GroveZine archives for July 2013. I'm bringing this up because there was a very interesting photograph from that same hotel in Redbook recently, which was then put online by AT&T News. It seems that on one of the tours of the hotel, someone snapped a picture that defies explanation. You can see it for yourself - click here to read the entire story.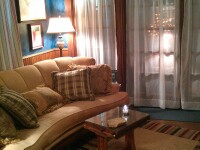 We have three different kinds of ghost stories from The Grove this month - touching, a feeling, and seeing. The first one happened on a tour that I was giving, although I didn't know about it until the end. We were finished, and I walked with the group from back in the kitchen up to the front parlor, and as everyone was signing the guest book a lady came up to me and said that she'd had something strange happen in the den. Well, a lot of strange things do happen in the den, especially on the tour, so it didn't surprise me. When I asked what had happened, she said that as she was standing there listening to me, she felt hand on her back. Assuming that it was someone that was with her, she glanced back, and got a surprise when there was no one behind her at all - well, at least no one that she could see! That's not uncharacteristic for the house - we've had people get tapped on the shoulder, poked in the side, or have some mess with their hair in the den. Whoever hangs out there is quite a mischievous fellow.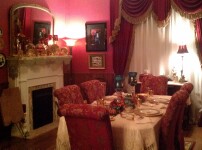 And speaking of the den, there was someone who had to leave the tour in that room this month. My wife was doing the tour that day, and the group was in the den, when a man said, "I need to step out," which he did. He came back by the end of the tour, and she got a chance to talk to this fellow. As it turned out, it all started in the dining room - when the group stepped around the table, he began to feel queasy. He tried to push through it, but when they got into the game room it was even worse. By the time that the group had moved into the den, he had to leave. Like I said, he eventually felt better and was able to come back inside. There were two interesting things about this story, though. The first is that even though this queasy feeling happens every now and then, it usually happens to women - this guy was probably only the second man who's had this happen. I don't know why, but could it be that women are generally more "in tune" to the supernatural than men are, and the two guys that this has happened to are simply more sensitive to such things? I don't know. But the second interesting thing is that this was his second visit to The Grove, and the exact same thing happened on his last visit, and in the same place. I don't know what causes it, but it's something that is fairly common at the house.
The last thing involves some activity that my wife and I have both seen this month. There is a hallway in The Grove that used to be a side porch, and it starts up at the stairwell at the front of the house, and ends back in the laundry room. I was in the latter, putting a load of clothes in the washer, when I saw a female form walk across the stairwell. I assumed it was my wife since we were the only ones in the house, and I was going to call out to her with a question, when she suddenly stepped out of the bedroom. Clearly it wasn't her that I'd seen. That alone would be interesting enough, but a day or so later I was in the bedroom when my wife came in and said, "Have you been in here for a while?" I told her that I had, and she said, "Well, I just saw a couple of people walking in the hallway, and I couldn't imagine who had come in and was with you." From the time that we bought The Grove fifteen years ago, we've seen and heard other people in the house - sometimes the Lady in White that has been seen so many times, but other times just random people that we have no idea about. All in all, though, it's become an interesting part of our lives.

Well, that's it for the September Grovezine, and by the time that it goes out I guess we'll already be into October and Halloween will be looming on the horizon. I hope that you had a great month, and that the final quarter of 2017 is wonderful for you. I'll talk to you again after October, and thank you for being a part of the GroveZine!
If you've toured The Grove in the last few months, we would really appreciate it if you'd take a moment to go to TripAdvisor.com and give us a review. Everyone's always been so kind to us - we SO appreciate the four-star reviews, but we LOVE the five-star reviews! It only takes a second, so if you'd be so kind, it would mean a lot to us. Click here to go to the Tripadvisor.com website. The Grove says, "THANKS!!!"
Here's what's coming up around Jefferson...


11/4/2017 - Fall History, Haunts & Legends Conference
11/25/2017 - Jefferson Christmas Parade & Tree Lighting
12/7-12/9/2017 - Candlelight Tour of Homes
1/26-1/28/2018 - Quilts on the Bayou
1/27/2018 - Queen Mab Ball
2/9-2/11/2018 - Jefferson's Mardi Gras Upriver
4/21-4/22/2018 - Outlaw Nationals Antique Rod Show
...and much more throughout the coming year!
---
This is a free subscription ezine for friends of The Grove - in other words, we NEVER arbitrarily add email addresses. We also NEVER sell or share email addresses with anyone else.
Feel free to pass the GroveZine on to your friends - all I ask is that if you forward it, please include the header, trailer and everything. Thanks!
To subscribe, just go to The Grove's Website and put your email in the blank at the left bottom of the page.
To unsubscribe, although we'd sincerely hate to lose you, simply follow the directions at the bottom of the this email.