www.thegrove-jefferson.com October 2020 ISSN 1558-3252
"The ghostly realm can be just as real as our physical one; the spectres are often quite ordinary people, living their busy lives alongside our own. They are like neighbours we are aware of, catching glimpses of them from time to time, hearing the odd sound from their part of the house, finding evidence they have just gone on ahead of us, slammed the gate and dashed off on their all-absorbing errands." - Paul Gater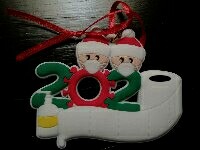 Every year we pick up an ornament for our family Christmas tree. Sometimes it's from a vacation or a special place that we've visited during the year, but a lot of 2020 was spent shut down. My wife saw one that was the perfect way to commemorate this year for us - it has two elves on top wearing masks, the first zero in the year is a corona virus, the second zero is a roll of toilet paper unrolling, with a bottle of hand sanitizer on the bottom as well. Yep, that pretty well sums up 2020!
Well, we've cautiously started tours of The Grove again. We're trying to be as careful as possible, so we're only doing about 50% capacity, restrooms are closed, masks covering the nose and mouth are required, and we're using one-wear disposable booties for our guests' feet. I wear a mask as well, and since I'm the only one talking during the tour I try to stand back at least ten feet just for some added safety for us all. Before and after the tour we disinfect the house with spray Lysol, and wipe down anything that a guest might touch with a Lysol wipe. Everyone has been very understanding and cooperative, so the tours have gone well so far, and we feel like everything's been very safe.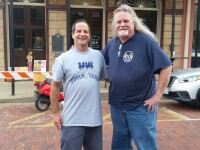 I got a call one weekend from a fellow who told me that he was the great-grandson of David Kahn, and he was coming to town to visit the old stomping grounds of his family. You may recognize David's name, especially if you've read my latest book The History & Haunts of the Kahn Saloon. Kahn was born in Prussia, and came to Jefferson in 1890 where he opened a saloon. He bought a house for his family on Houston Street - now the Wise Manor - and eventually left the city for Boston, Mass. I grabbed my mask and met his great-grandson Joel and his wife Lisa at the Port Jefferson Outpost for breakfast, and they were a delightful couple. We had a great visit, and after breakfast we got on my golf cart for a tour of the city. Joel and I had our picture made in front of the Kahn Saloon Hotel, as you can see. Standing outside in the middle of Austin Street seemed safe enough for a maskless shot. I think that they really loved Jefferson, and will be be back to visit one of these days.
Have you ever had such a strong feeling of deja vu that it almost physically shakes you? Well, that happened to me this month. The new AARP magazine hit the mailbox, and it had an interview with Bruce Springsteen that I was looking forward to reading. Believe it or not, I didn't discover Bruce until a year or so ago when he released his recording of Springsteen on Broadway. The acoustic guitar and piano brought out the words to his songs like poetry - I heard them in a way that I never had before. Since then I've listened to a number of his albums, and really enjoyed them. With that in mind, I sat down to read the AARP interview. Suddenly my mind washed back to the early 1980s when I had a subscription to Rolling Stone magazine - trying to be "cool" I guess - and an issue came with Springsteen on the cover. I thought, "Why are they putting that guy on the cover? I don't like his music at all!" Fast-forward almost forty years, and it gave me a mental jolt that I was now enjoying his interview in AARP magazine. Wow... deja vu... I wish that I could go back and tell a much-younger Mitchel, "Hey, listen to the words of the music and give this guy a chance." There are so many things in life that we'd like to alter if we only had the chance, right?
The big news around Jefferson is that the Fall History, Haunts and Legends conference is coming up very soon - November 7, in fact. The Spring conference had to be cancelled due to COVID-19, but this one is ready to roll. It includes a wonderful slate of speakers that I'm looking forward to hearing, a gallery with psychic Dakota Lawrence, individual readings by psychic, bestselling author and medical intuitive Dr. Rita Louise, and of course a slew of nighttime investigations led by several well-known paranormal groups. I'll be speaking on "The Making of a Haunting: The Kahn Saloon Hotel," and I look forward to seeing many of you at the conference. Just visit the Historic Jefferson Ghost Walk Facebook page for more info.
If you're in Jefferson looking for some Halloween-ish things to do, be sure to catch the Witch Dance. It's performed every Friday & Saturday in October, 6:30 & 7:00, in the courtyard of Made in the Shade (118 E. Henderson). It's a fun presentation, and the costumes are extravagant, outlandish and downright fun. This year the witches are raising money for Shreveport Shriner's Children's Hospital, so it's all for a wonderful cause.
Last month I included a link to Michael Graves' new video about Steven Spielberg's stay at the Excelsior House Hotel here in Jefferson. It's great, and if you missed it just click on this link to watch the video. I mention it again because after the September GroveZine went out, I received an email from Michael. It said, "Last night my wife and I rented Poltergeist to celebrate the release of my video. We have both seen the film innumerable times, yet this time I noticed something I never caught before. At the very end of the film, right after the family flees the house before it disappears into the spirit realm, they go to a Holiday Inn just like Steven Spielberg did [after leaving Excelsior House]. Also, after the father rolls the TV out and closes the door, the camera pans left. As the camera pans left, the room numbers get bigger. Finally the camera shows room 215, the same as the Jay Gould Room at Excelsior House. Once the camera reaches room number 215, it begins to pull away as the credits roll. I believe Spielberg did this on purpose to acknowledge his stay at Excelsior House - really, really cool!"

What Michael said blew me away - I have never seen anyone put that together before, so I believe that Michael Graves discovered a new Easter egg in the movie Poltergeist - and this one gives a nod to the Excelsior House in Jefferson. The photograph here shows the motel door at the end of the movie just after it was closed. I can't imagine a scenario where the duplicate room number could happen accidentally or coincidentally. Everything in Spielberg's work is completely thought out, so I must assume the room number must have been as well. You have to love that!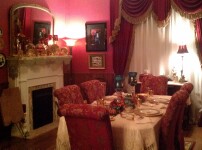 Well now that the tours have started back up, the house seems to be reacting to them. We've had a number of things happen over the last couple of weeks. If you've been reading the GroveZine for a while, you know that in the Dining Room~Game Room area we've had a number of people get dizzy or nauseous... 99.9% of these people are ladies; it rarely happens to men. Twice in the first two weekends we've had ladies get queasy. One left the tour until we'd moved beyond the Dining Room, the other hung in there but told us about it after the tour was over. What causes this? I have no idea. We've had two different ladies actually pass out in that room during the tour, so it's a very real thing... I just don't know what causes it, other than perhaps these people are a bit more sensitive to the supernatural world than they realize, and they pick up on it in that part of the house.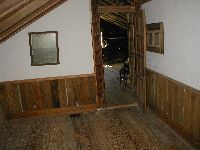 The attic of The Grove is actually quite large. Because of the high pitch of the roof you can stand up and walk around up there. It's just rafters and insulation, though, just like your own attic, although a good bit of it has been floored for storage. The wall of the stairwell leading up there has also been sheetrocked and painted. We don't go up there unless we're getting a box of Christmas decorations for the house or something like that. To the best of our knowledge, no one has ever lived up there (and it would be quite miserable, since it hasn't been finished out and isn't climate controlled). Still, on occasion we've heard footsteps up there, and when a visiting psychic went into the attic, she collapsed and cried for her husband and me to get her out of there immediately - with no explanation as to why.
During a recent tour, we'd just finished up and a gentleman asked me if anyone was in the attic. I explained that it was only for storage, and that it was probably 200 degrees up there, but he went on to say that when we'd just come into the Parlor at the start of the tour he heard footsteps up there, and even whispered to his wife that someone was walking around upstairs. What was going on? I have no idea; it's been reported before, and we've heard the same thing, so all that I can say is that it's just part of The Grove.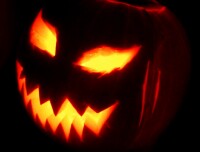 Well, we're wrapping up October and heading into Thanksgiving with Christmas following a few weeks after. Let's not rush it, though... time is passing fast enough! I hope that you have a wonderful and safe Halloween - we usually have a very quiet evening here at The Grove. Our annual ritual is turn off the lights, snuggle up on the couch, and watch our favorite ghost movie, The Changling with George C. Scott. I haven't seen it in a year, so it's going to be great. Meanwhile, I'll look forward to talking to you again next month!
Here's what's coming up around Jefferson...


Jefferson is opening back up, but before heading out for any of these events I'd recommend calling in advance and verifying that everything is still on, and what any attendance restrictions might be. Some things are going forward, others have altered agendas, and still others have cancelled or postponed. "A Taste of Jefferson" and the "Burn Benefit Motorcycle Rally" both went on as planned, albeit with reduced crowds. The Bigfoot Conference was held with a virtual component, but the Quilt Show and Girlfriend Weekend have both cancelled. Everyone's trying their best to navigate these strange times, so I can't fault anyone with their decisions. I just pray for us all to be safe and healthy!
10/23/2020 - 10/24/2020 The Witch Dance
10/30/2020 - 10/31/2020 The Witch Dance
11/7/2020 Fall History, Haunts & Legends Paranormal Conference
12/3/2020 - 12/5/2020 Jefferson Candlelight Tour of Homes
12/10/2020 - 12/12/2020 Jefferson Candlelight Tour of Homes
...and much more throughout the coming year!
---
This is a free subscription ezine for friends of The Grove - in other words, we NEVER arbitrarily add email addresses. We also NEVER sell or share email addresses with anyone else.
Feel free to pass the GroveZine on to your friends - all I ask is that if you forward it, please include the header, trailer and everything. Thanks!
To subscribe, just go to The Grove's Website and put your email in the blank at the left bottom of the page.
To unsubscribe, although we'd sincerely hate to lose you, simply follow the directions at the bottom of the this email.