Mardi Gras Upriver!

Jefferson, Texas

Jefferson's annual Mardi Gras Upriver celebration is hosted by the hardest working krewe in America, the Krewe of Hebe! Mardi Gras has been celebrated in Jefferson, Texas for many years. The tradition goes back to the old steamship days of Port Jefferson, when the boats would travel up from New Orleans. Today, the festivities last an entire weekend and feature parades, bands, food, frosty beverages, and of course, beads!

One word of warning, though - up to 25,000 revelers have been known to converge on the City of Jefferson for Mardi Gras, so the bed & breakfasts fill up fast. Many rooms are booked a year in advance, so it's important to make your reservations early.

Meanwhile, cut a slice of King Cake, don your mask, grab a handful of beads, and get ready for Mardi Gras Upriver in Jefferson, Texas!
Laissez les bon temps rouler, mes amis!
(Let the good times roll, my friends!)

| | | |
| --- | --- | --- |
| | The Grove at Mardi Gras | |
Many house and B&B's in town decorate for Mardi Gras - kind of like for Christmas, but on a slightly smaller scale. At the grove, we put tinsel around the front door in the traditional colors of Mardi Gras: Purple, which is symbolic of justice, Green, a symbol of faith, and Gold, which represents power. These colors have been associated with Mardi Gras celebrations since the 1870's, when the Grand Duke Alexis Romanoff of Russia visited New Orleans. During his visit there, he was given the honor of selecting the official Mardi Gras colors by the Krewe of Rex, and he chose those three, which were also the colors of the House of Romanoff.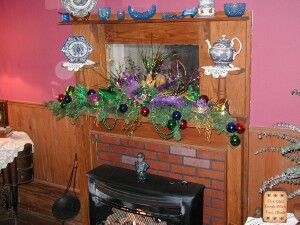 Inside, we used Mardi Gras masks as part of our decorations. The practice traces its origins back to pagan Rome, where every February brought a feast which lasted several days. Revelers would indulge in the celebration by wearing masks, dressing up in wild costumes, and basically partying hard to honor Bacchus and Venus. All aspects of pleasure were celebrated during this Carnival. When Christianity spread into Rome, some of the old customs were woven into the new religion to placate the Romans, the Carnival season being folded into the period before Lent. In the early 1700's, French citizens of New Orleans threw elaborate balls where guests were encouraged to wear masks in the tradition of the old Roman Carnival - the more elaborate, the better!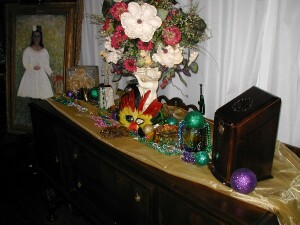 In medieval times, a similar-type festivity to that of the present day Mardi Gras was given by monarchs and lords prior to Lent in order to ceremoniously conscript new knights into service and hold feasts in their honor. The landed gentry would also ride through the countryside rewarding peasants with coins, which is thought to be the origin of present day gifts of Mardi Gras doubloons and other trinkets - of course, the most valued of these to someone watching a parade is BEADS!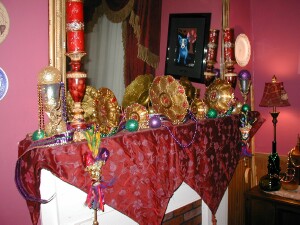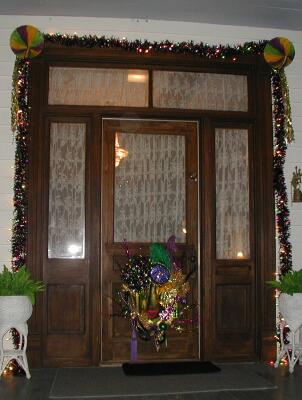 | | | |
| --- | --- | --- |
| | The Doo-Dah Parade | |
The "Mardi Gras Upriver" celebration gets started in Jefferson on the friday before Fat Tuesday, with something called the "Doo-Dah" Parade. To join this parade, just don a colorful outfit and meet at Lion's park at the appropriate hour.
The parade starts forming at Lion's Park, with a croud of revelers led by the King of Mardi Gras, and often a musician or two. You can see some of us in our get-ups on the photo on the right.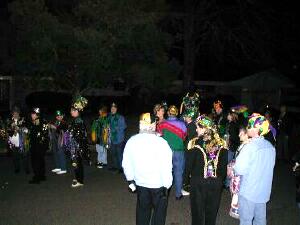 From Lion's Park, the parade winds through the streets to Sterne Fountain, where the King of Mardi Gras stops to give the celebration's opening proclamation before Hebe, Greek Goddess of Eternal Youth.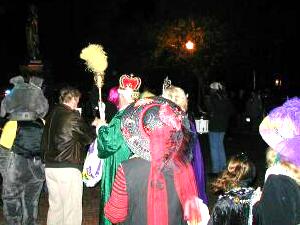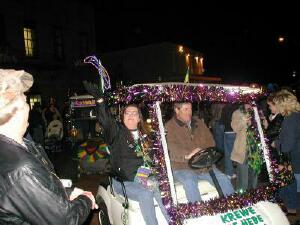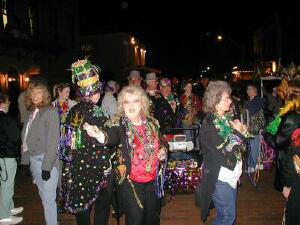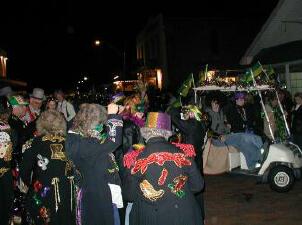 After the Doo-Dah Parade, the crowds pour into the streets of Jefferson to begin the weekend celebration. A carnival takes over the downtown parking lot on Dallas Street, with rides for both kiddos and adults alike. The best thing, though, is the JUNK FOOD!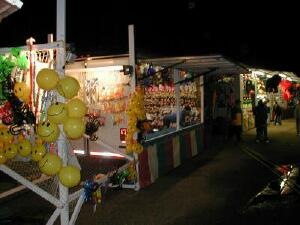 By that time we are no longer loaded down with throw-beads, and can turn our full attention to the Friday night party!

One thing about Mardi Gras being in February, though, is that the weather is usually a little chilly. It isn't too bad - nothing that a couple of extra tee shirts and a pair of gloves won't take care of.
We heard a rumor about a new junk-food item one year: a Fried Twinkie! Of course, we immediately went on a mission to find this culinary delight. Sure enough, a booth was set up just down the street with a big banner across the front advertising them. We tried one, and it was a little like eating a hot donut. We talked to the guy behind the counter, and soon discovered that the Fried Twinkie is nature's perfect food: you can get a day's worth of calories and an entire week's worth of fat grams all in one little goodie on a stick.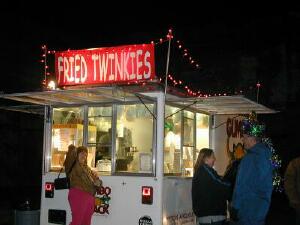 Nature's Perfect Food: The Fried Twinkie
Want to make your own Fried Twinkies? Here's a recipe for you:

Ingredients:
6 Twinkies
6 Popsicle sticks
1/2 cup powdered sugar 4 cups vegetable oil, and flour for dusting.
1 cup milk
2 Tbsp. vinegar
1 Tbsp. oil
1 cup flour
1 tsp. baking powder
1/2 tsp. salt
Directions:
Chill or freeze the Twinkies for several hours (or overnight).
Heat 4 cups vegetable oil in deep fryer to about 375 degrees.
Prepare the batter by mixing together the milk, vinegar and oil. In another bowl, blend flour, baking powder and salt. Whisk wet ingredients into dry ingredients and continue mixing until smooth. Refrigerate mixture while oil heats.
Push the sticks into the Twinkie lengthwise, leaving about 2 inches to use as a handle. Lightly dust each Twinkie with flour and dip into the batter. Rotate Twinkie until batter covers entire cake.
Place carefully in hot oil. The Twinkie will float, so hold it under with a utensil to ensure even browning. It should turn golden in 3 to 4 minutes. Depending on the size of your deep fryer, you might be able to fry only one at a time (or two at the most).
Remove Twinkie to paper towel and let drain. Sprinkle powdered sugar all over it!
(We should point out that Twinkie is a registered trademark of the Hostess Corporation)
| | |
| --- | --- |
| The town is always hopping until the wee hours on Friday night. There's a beer garden where you can get a frosty beverage, a bandstand is set up for live music all weekend, the downtown shops are open for browsing, and of course the carnival is in full swing. For a little more structured meal, the city's restaurants are open as well - and Auntie Skinner's club is usually having its own Mardi Gras celebration, with bands and dancing all night. Laissez les bon temps rouler! | |

The Krewe of Hebe's
Grand Parade
The main parade is kicked off at 12:45 by the Motorcycle Parade, featuring some of the baddest bikes that you'll ever see.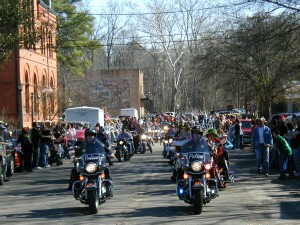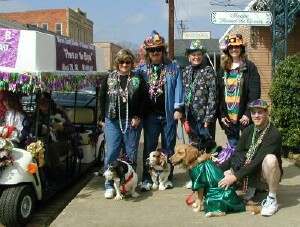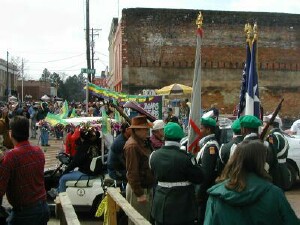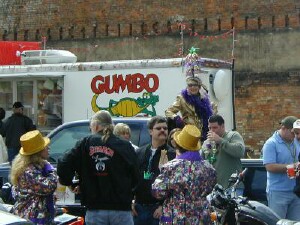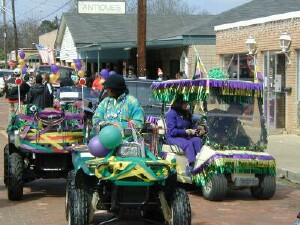 After the Motorcycle Parade, the Krewe of Hebe Grand Parade starts out with the presentation of the flags. In light of the world that we live in today, it is always moving to see representatives from our armed forces flying the colors high.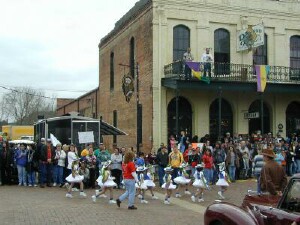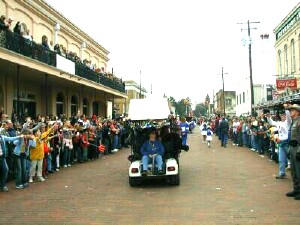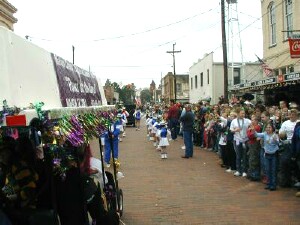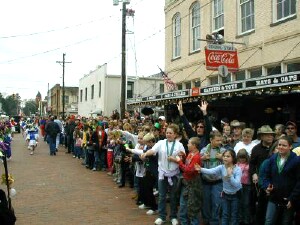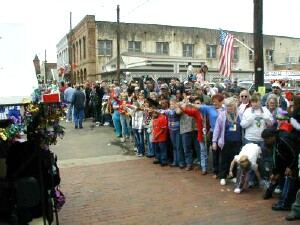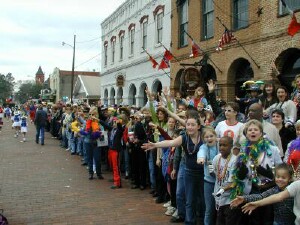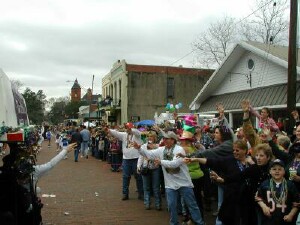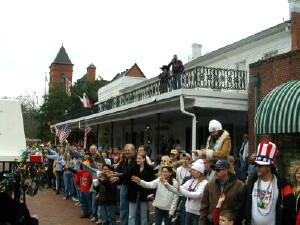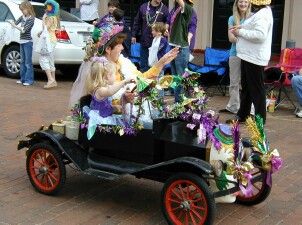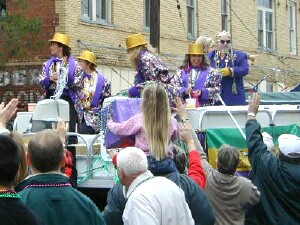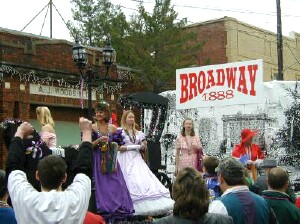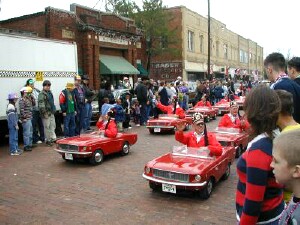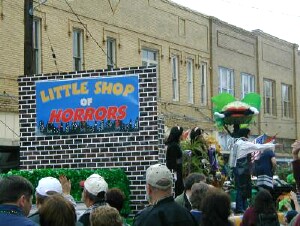 The floats are judged, and several different trophies are presented on Saturday night. The different organizations plan their floats all year long, because those awards are highly coveted!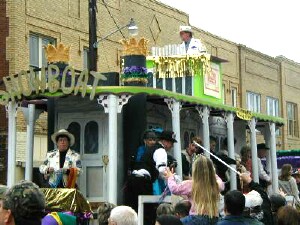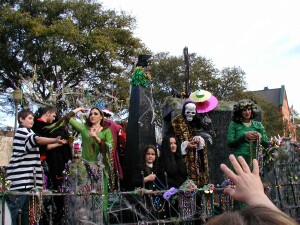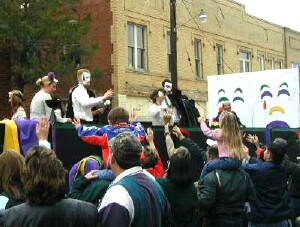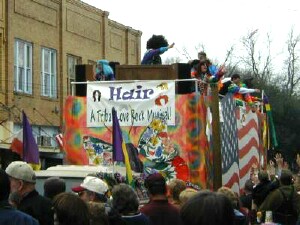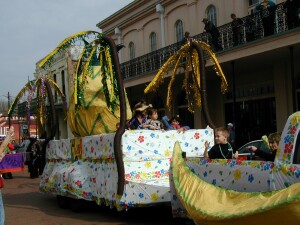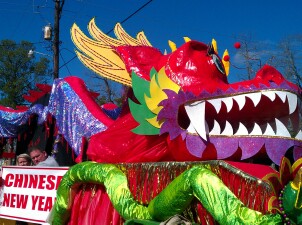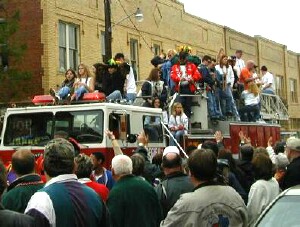 When it is all over, we usually have a couple of commerative plastic cups, a pocket full of doubloons, and many strings of beads around our necks. It is always a great parade, and we thoroughly loved participating in it!

| | | |
| --- | --- | --- |
| | Mardi Gras Upriver! | |
The Mardi Gras celebration goes from Friday night to Sunday afternoon, and the rest of the photos are things that we snapped over the course of the weekend. It's a family-friendly party - there are many things for the kids to enjoy, but adults can also sip a frosty beverage and enjoy a romantic dance or two.
| | |
| --- | --- |
| Music seems to be everywhere during Mardi Gras - whether from the Budweiser Stage in the Beer Garden, from the arts & crafts booths, or from performers like these who entertain the revelers in the street! | |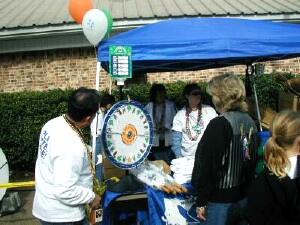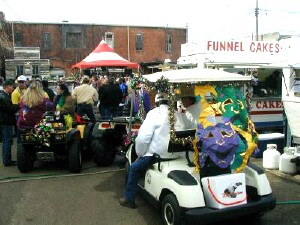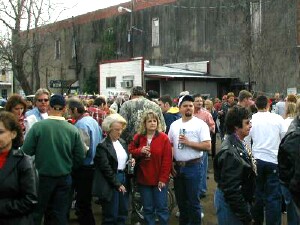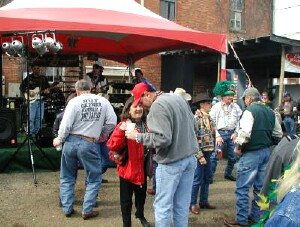 We'd mentioned the Motorcycle Parade before, but to really appreciate these bikes you have to take an up-close look at them all. They're any biker's dream; tricked out, loud, sleek and sexy. You could literally spend an hour scoping them all out.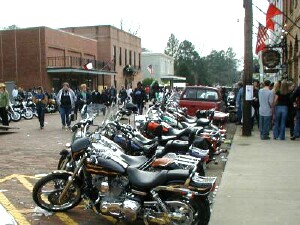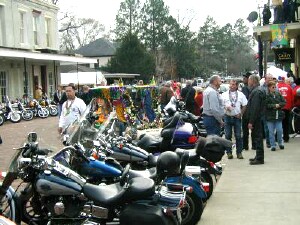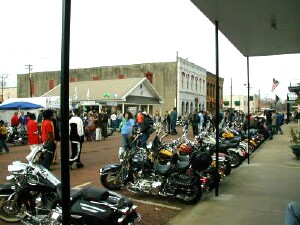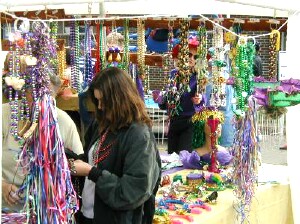 There are arts and crafts booths set up on several streets selling everything that you can imagine - if you need a Mardi Gras hat or an elaborate set of beads, you're in luck. Of course, we always buy the official Mardi Gras Upriver tee shirt from the Krewe of Hebe's booth.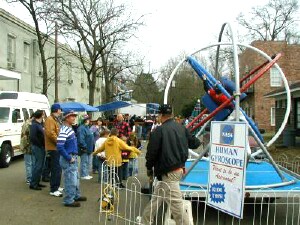 On the above right photo, you'll see a couple of mounted police. Unlike some Mardi Gras celebrations around the country, Jefferson's Mardi Gras Upriver is very safe and secure. The crowds are protected by officers on foot, on horseback, even on four-wheelers. Even with the tens of thousands of people in town, there wasn't a single moment that we didn't feel safe.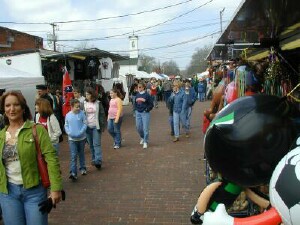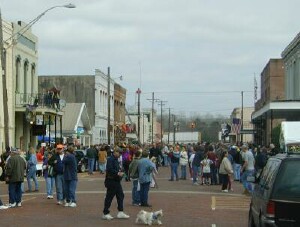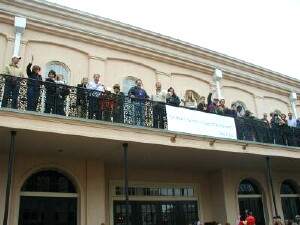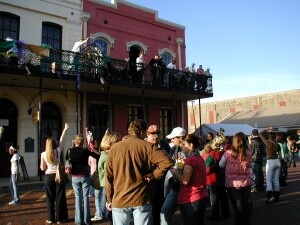 You've heard us mention the beer garden and the Budweiser stage, and it's actually a very good arrangement. You can go in and order a beer, but there are officers at all four entrances to make sure that people drinking don't go out into the streets, and that minors don't wander into adult areas. It works out well for everyone.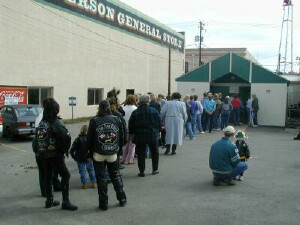 From the above photo, you can see that lines for the public restrooms can get long at times. Make your plans accordingly - and if you ever see a bathroom without a line, take advantage of it immediately, whether you have to go or not!
| | |
| --- | --- |
| In closing, we were leaving Sunday afternoon's celebration when we noticed an officer's horse a drink from Sterne Fountain. This is a very unique fountain - it has faucets for people, horses and pets. It was the first time that we'd seen a horse taking advantage of it, though! | |
Once Mardi Gras is over, we head back to The Grove to take off our beads and mask, put our costumes in the pile to go to the cleaners, and usually take a late afternoon nap. It a wonderful weekend, and once it's over, there is only a year to rest up for the next Mardi Gras Upriver in Jefferson!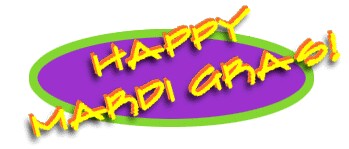 Click here to return to the Jefferson page, or just hit the BACK button on your web browser.
Mardi Gras images provided by Lara's Mardi Gras Clip Art page, and are here in accordance with their terms of use policy. This website and all other images are copyright 2003-2009, and may not be used without prior written permission.