---
FREE monthly ezine - get the latest ghostly happenings at
The Grove! Rest assured, your email address will never be traded, sold or abused!
Click on any of the items below for a full description:
---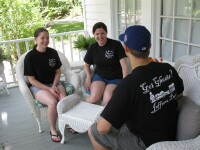 There is now an official Grove Tour t-shirt! It's black with white letters - like any respectable ghost tour t-shirt - and the front has our tour name: "Haunts & History of The Grove, Jefferson, TX." The back has the famous view of Austin Street here in town, framed by the slogan, "Got Ghosts?" and "Jefferson Does!" Click on the photograph of the models for more information.
---
---
Click here to return to the Grove home page.
This website and all images are copyright 2002-2013, and may not be used without prior written permission.